Generator Digital and Print Marketing Automation
Maximize Marketing Production Efficiency and Accuracy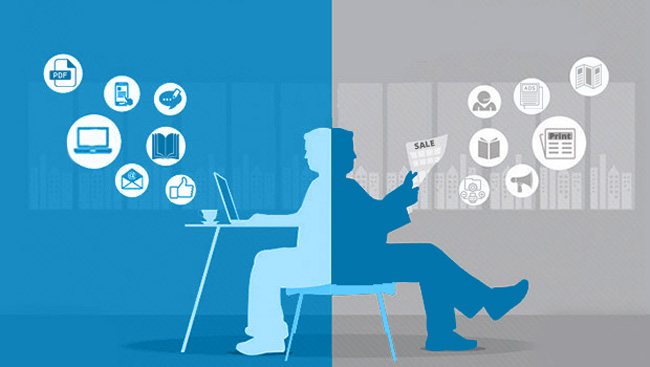 By utilizing The Generator Marketing Automation platform as a centralized, reliable source of truth, companies can quickly and easily generate custom publications in both digital and printable PDF formats, complete with product hyperlinks, page index and customer-specific versions with pricing. 
The Generator ensures that all marketing materials, such as catalogs, sales flyers, ad circulars, email marketing, order forms, price lists, etc., are up-to-date and accurate. In addition, it can also be used to create targeted emails, drip campaigns and automated sales cycle contacts, making it the choice tool for omni-channel marketing strategies.
The Generator makes it possible to create sales and marketing materials instantly!
Custom Digital and Print Catalogs in Minutes
If you bought or sold products using a catalog, then you understand the importance of having an automated software system like the Generator that can dynamically create complete custom catalogs for both digital and print output in minutes.
With the Generator Marketing Automation platform companies can quickly and easily create custom catalogs that are tailored to their specific needs. This valuable automation significantly saves time and money in production and all associated overhead versus catalogs done "the old fashioned way." The system further increases its value by dramatically speeding up the time it takes to get products to market.
The Generator's ability to create fully customizable catalogs, sales flyers, ad circulars, email marketing, order forms, price lists, etc., instantly for digital or print output allows companies to focus resources on all aspects of targeted sales, marketing, and other important customer touch points.
By using the latest Cutting-Edge catalog technology, companies can create, customize and deploy visually appealing and easy-to-navigate catalogs virtually instantly, attracting more customers and increasing sales in minutes.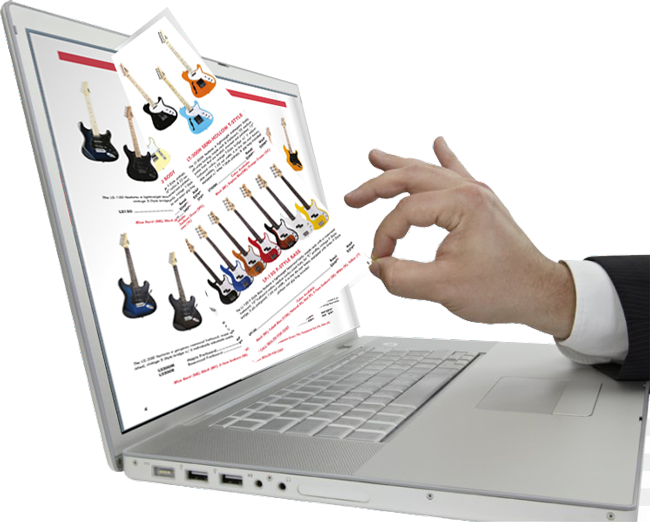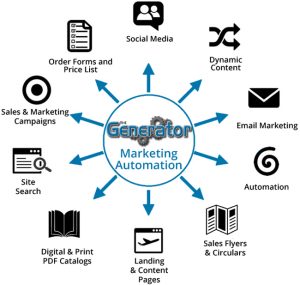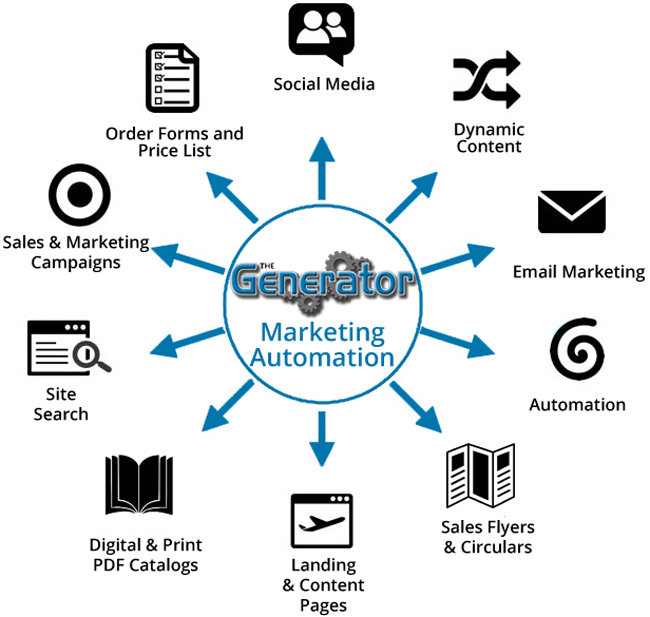 The Generator offers numerous other benefits, including improved content management, dramatically faster time to market, streamlined production workflows, and reduced redundancy. This results in improved accuracy with significant time and cost savings. 
Generator Marketing Automation allows businesses to create and distribute more content than ever before, reaching more customers, building brand recognition which lead increased sales.
The Generator Marketing Automation platform is an invaluable tool to take your marketing strategies quickly to the next level.
Generator Digital and Print Marketing Automation​ Features
✓ Instantly Create: digital and printable marketing materials, including print catalogs, order forms, price lists, postcards, tri-folds and sales flyers
✓ Automation: Easily create automated sales cycles, which send scheduled marketing material and follow-up emails to help convert leads into customers
✓ Targeted: Reach large numbers of contacts cost-effectively with targeted email, drip marketing and automated sales cycles tailored to their specific needs
✓ Metrics: View reports about campaign views and link performance to help measure success
✓ Customer Lists: Create unlimited marketing lists and populate them manually or via dynamic criteria
✓ Customization: Templates and comprehensive customization tools for your email blasts and print materials
✓ Multiple Campaigns: Create, manage, and sort multiple email campaigns and easily view their statistics
✓ Personalization: Variables that allow content to be personalized for each recipient
✓ Statistics: Detailed sales and inventory statistics and reports
✓ Automated Campaigns: Ability to create and execute automated campaigns
✓ Segmenting: Real-time segmentation capabilities
✓ SMM: Social media marketing integration
✓ Work Flow: Marketing automation workflow builder
✓ Customer Mapping: Robust customer journey mapping capabilities
Why Run Your Business on the Generator ?
Comprehensive: The Generator is an innovative suite of modules that provide comprehensive applications to better manage all aspects of the business
Scalability:

Flexible and customizable with a company's needs, allowing it to grow with the company as it expands

Automation: Able to automate many of the redundant processes that are traditionally done manually
ROI: Affordable for any size business. Cost-effective system and operational efficiencies that save significant time and money overall
Collaboration: Enables collaboration between departments, allowing for more streamlined, efficient, and effective workflows
User Experience: Provides a user-friendly interface and experience for employees, customers, and partners for easy utilization
Integrations: Integrates with hundreds of other existing systems, allowing for a seamless flow of data and information
Globalization: Global ready with multiple languages, currencies, value-added tax (VAT), country of origin, and Harmonized Tariff Schedule (HTS) codes
Analytics: Data-driven insights, analytics and reporting capabilities that allow businesses to make more informed decisions
Data Security: PCI compliant enterprise-level secure environment for the data storage and processing of large volumes of orders
Fast Flexible Deployment: With over 20 years of experience, we are committed to working with your team to ensure swift and efficient deployment