Generator Enterprise Commerce All-In-One Platform
Generator Enterprise
All-In-One Platform
The Generator Enterprise All-In-One includes all the components you need to run your business using one platform. The Generator features built-in eCommerce, marketing automation, online catalogs, print catalogs and marketing production, product information management, order management, content and digital asset management, inventory management, warehouse management, and more.
With over 25 years as trusted software developers we're not too big to lift up small companies, and we have the experience and infrastructure required to meet large business needs. We've walked in your shoes, our deep understanding of your unique processes and requirements are built into every solution. The knowledge of these intricate details enable us to develop the next level business-building systems that are required to thrive, like advanced pricing controls, multi-store eCommerce, marketplace sales connections, catalog creation, sales flyers, price list builder, email marketing, automated sales cycles and drip marketing, CRM, form builder, page builder, vendor data connect, currencies, languages, advanced faceted search technologies, and more, all built-in as one powerfully integrated B2B / B2C / B2B2C / B2B2X offering.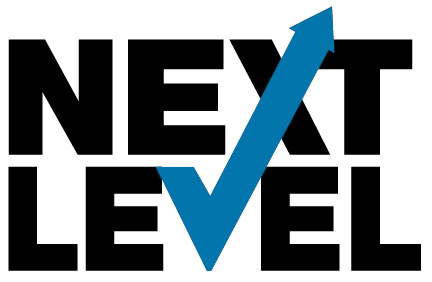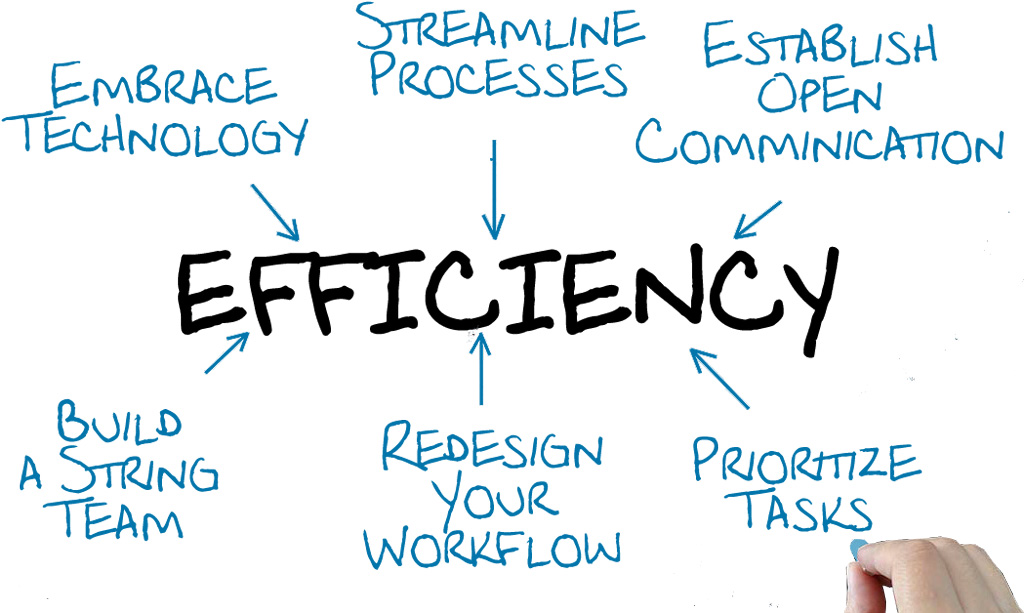 The Generator platform has all of these features and more for maximizing your business. Our platform allows you to integrate other components as well. Imagine not having to worry about making sure all of these components work well together. The Generator makes your business more manageable, in addition the system seamlessly integrates with popular accounting software, including Quick books, Sage, and more.
With the Generator all-in-one platform, you don't have to have multiple systems to get the very best in next level efficiency, multichannel sales capabilities, resourceful management, and omnichannel marketing automation.
B2B Business-to-Business eCommerce
The Generator B2B is the industry's most complete solution for delivering an exceptional eCommerce experience for both your business and for your customers in every aspect, and every step of the way.
This robust platform is built from the ground up for all types of B2B companies big and small in need of more effective sales and marketing driven eCommerce touch points.
The Generator B2B ensures that your customers will have a superior experience by creating an intuitive friction-less eCommerce flow throughout their entire buying and fulfillment journey.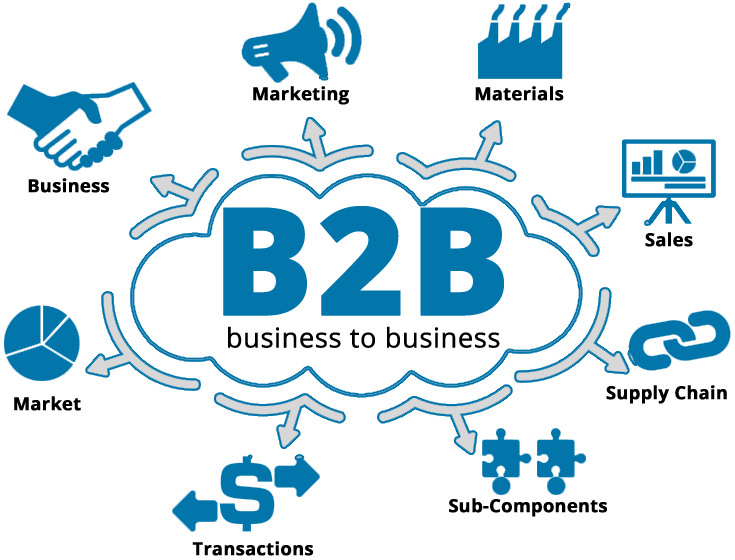 B2C Business-to-Consumer eCommerce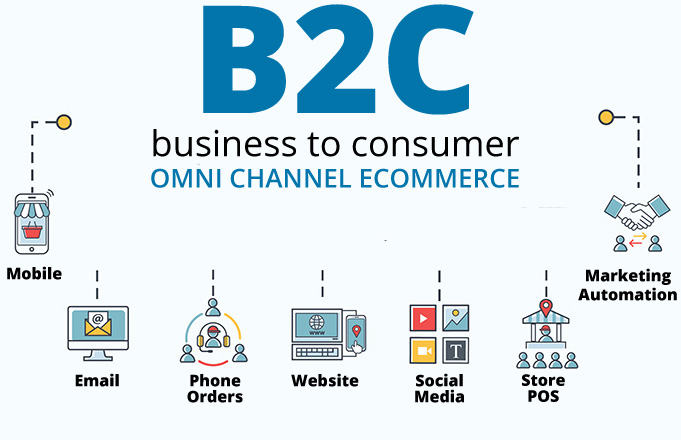 Pro-Active provides the latest next generation in eCommerce technology. Offering a comprehensive built-in suite of omnichannel tools that deliver outstanding sales and marketing connectivity, along with the flexibility to customize your platform to meet your unique business needs.
Compared to other eCommerce platforms, Pro-Active has more features and built-in functionality, so you can exceed your goals today, and surpass the challenges of tomorrow. With Pro-Active, you can access all the omnichannel features you want, need and dream of, without the need for unreliable plugins or expensive third-party applications.
The platform is designed to provide you with the advanced technology you need to stay ahead of the competition and keep up with the ever-evolving eCommerce landscape. It's the perfect solution for businesses looking to rest assured that they have the latest tools and resources in place to stay ahead of the curve, and succeed in a competitive eCommerce world. 
In just a few clicks, the Generator allows you to instantly create a smart interactive network of websites for your company from one platform to effectively promote your products, brands, niche markets, regional or global eCommerce.
These full-featured targeted websites come complete with detailed descriptions, cost, images, videos, stock levels (if desired), sale items, new items, product updates and changes, schematics, and any other relevant information. The data is transferred instantly from the Generator into all websites within your "eNetwork", ensuring that all associated sites are always up-to-date with the latest information, without the need for spreadsheets, downloading, or importing, thus dramatically speeding up time to market, reducing associated costs, and increasing overall profit.
The Generator Multi-Store eCommerce is the perfect solution for businesses looking to simplify  eCommerce management, instantly create and maintain multiple targeted websites, enable data-feeds into existing customer websites, produce in-store retail kiosks and buying group portals, or create effective white-label eCommerce for resellers.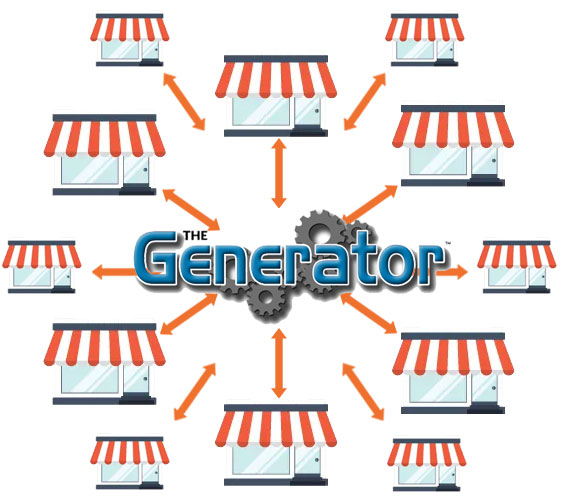 IMS / OMS / WMS
Information Management / Order Management / Warehouse Management System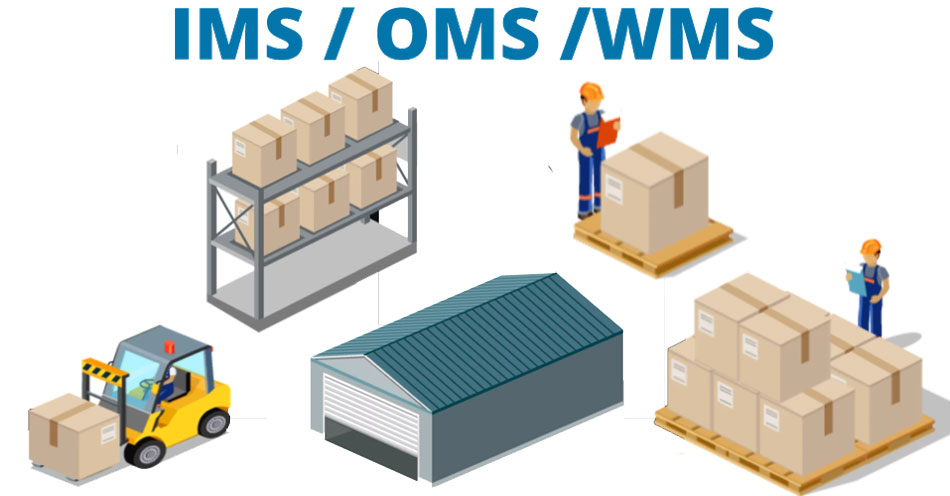 The Generator provides an unparalleled level of functionality into your inventory, order and warehouse management by uniting IMS, OMS and WMS. With this cutting-edge tech stack, you'll appreciate the platforms seamless experience, with streamlined and predictable outcomes at every stage of the process.
Not only does this new tech stack approach allow for reduced overhead costs, but it also creates the highest level of efficiency allowing you and your customers to be aware of inventory and order status at all times, along with the confidence that there will always be enough stock available in the pipeline so orders will move swiftly and smoothly throughout the entire fulfillment process.
PIM / DAM / CMS Product Information Management, Digital Asset Management, Content Management System
The Generator's second tech stack combination of PIM / DAM / CMS  empowers a centralized hub for product information, digital assets and content management which are necessary for effectively creating and updating websites, email marketing, social media content catalogs, brochures, ads, price lists, order forms, and other multiple channel sales and marketing materials.
By centralizing product information, digital assets, and content management in one place, the Generator simplifies and streamlines the creative process, eliminates repetition, accelerating the publication process, and significantly speeds up time to market.
The Generator's synergy of three powerful creative tools not only makes the overall workflow smoother and more efficient, but also saves both time and money in every aspect of sales, marketing, and brand content production.
The Generator's single source of truth ensures that the information is always correct and up-to-date resulting in a more agile and efficient workflow, and that it easily interacts with all of the company's sales and marketing channels.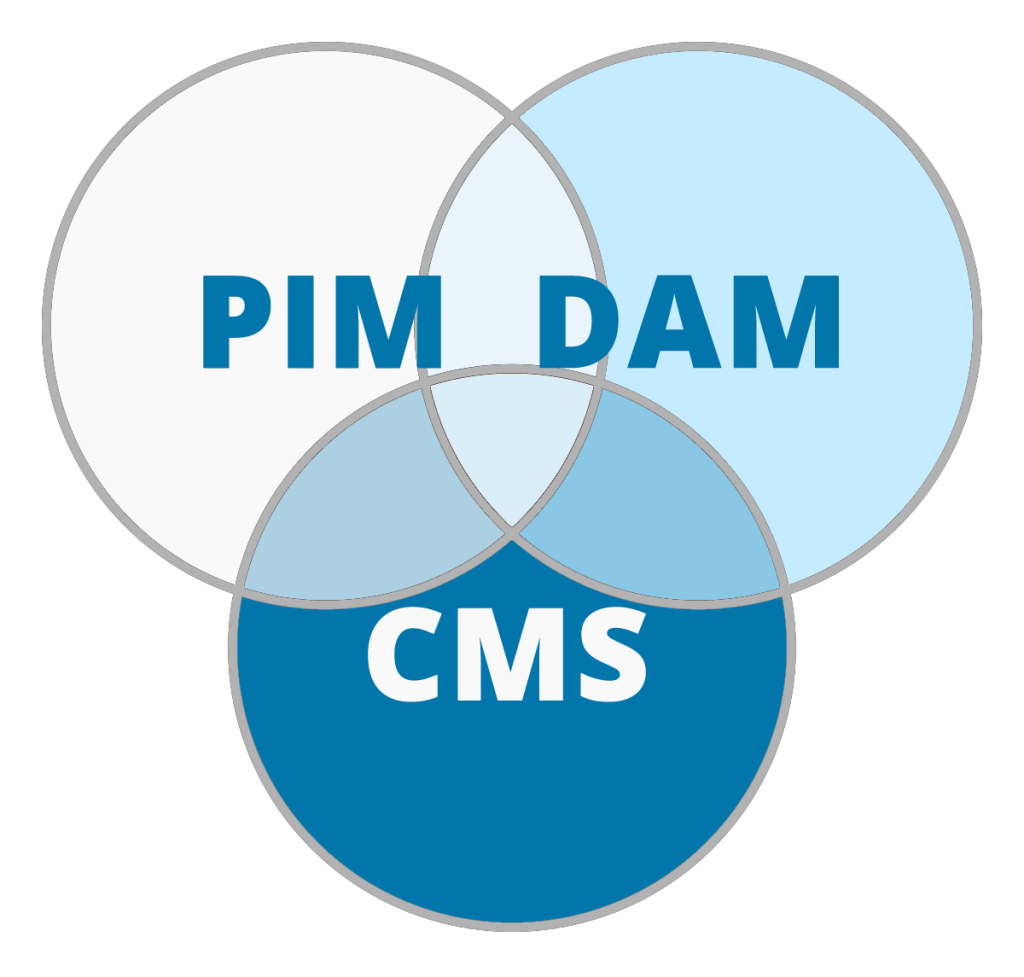 Digital and Print Marketing Automation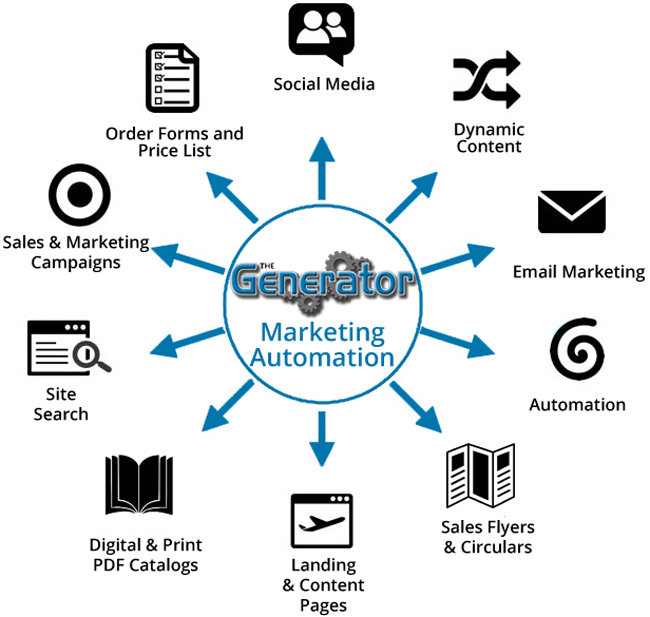 The Generator Marketing Automation platform provides as a centralized and reliable source of truth for companies to quickly, easily and accurately produce various customizable publications in both digital and printable PDF formats, complete with product hyperlinks and customer-specific versions with pricing.
The Generator Marketing Automation platform ensures that all of the businesses omnichannel marketing materials, such as catalogs, sales flyers, ad circulars, email marketing, social media, order forms, price lists, etc., are up-to-date and accurate. 
This extremely useful and very versatile platform has numerous capabilities and can also be used to create targeted emails, drip campaigns, and other automated touch points, making it a powerful tool to deliver measurable results in omnichannel sales and marketing strategies.
The Generator Marketplace Automation is the most effective turnkey solution for merchants looking to  sell and manage their inventory accurately across multiple marketplaces and websites efficiently.
With the Generator Marketplace Automation control center you can instantly synchronize your inventory across multiple marketplaces like Amazon, Walmart, eBay and more, as well as with all your eCommerce websites simultaneously (B2B and B2C).
The Generator built-in automation process speeds time to market, ensures inventory accuracy across multiple sales channels, reduces multiple redundancies, streamlines workflows, cuts fulfillment time, and effortlessly reconciles payments across multiple marketplaces for merchant fulfilled, FBA and other marketplace fulfillment programs.
The Generator automates the process from product listing to payment reconciliation – creating a turnkey solution. The Generator Marketplace Automation platform also easily integrates with your other existing systems, enabling merchants to effectively manage all marketplace sales in one place.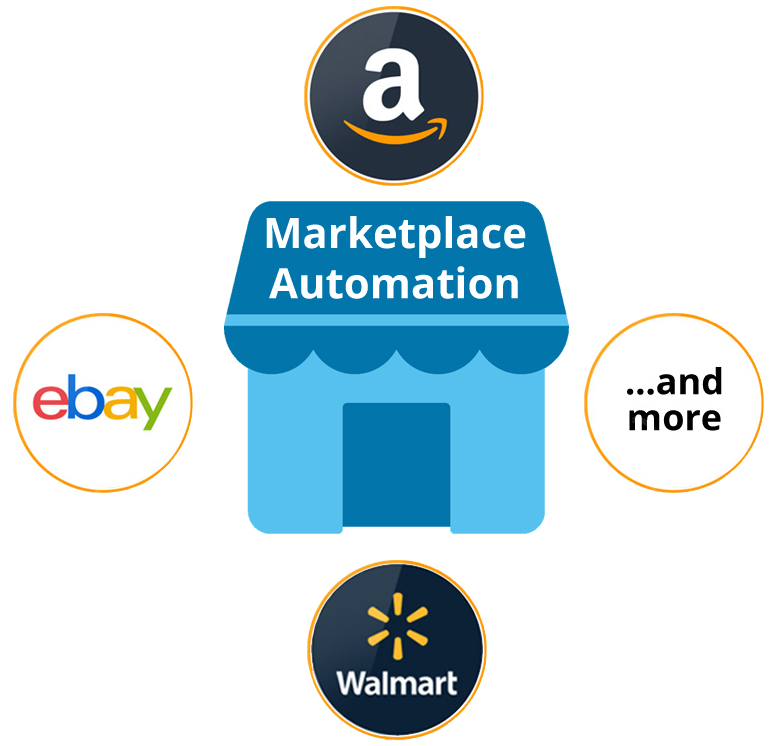 CRM - Customer Relationship Management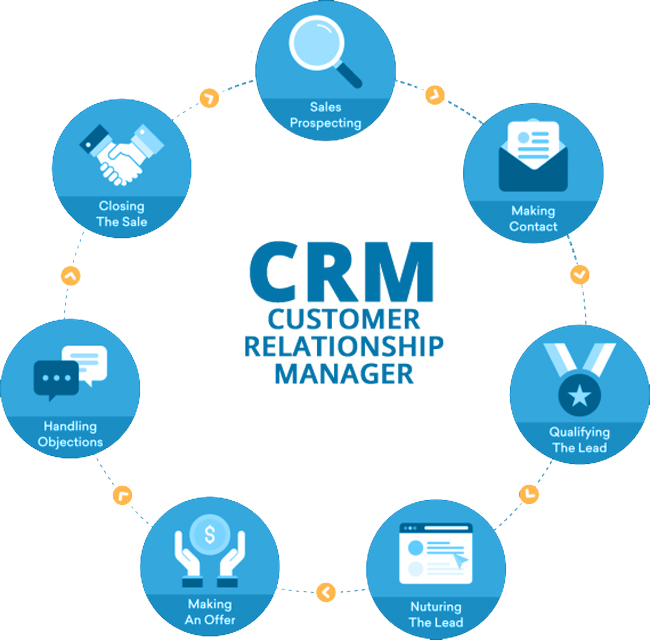 As a business leader you are well aware of the importance of having a good Customer Relations Management system (CRM), to stay informed on every aspect of your entire sales process. The Generator CRM is a very empowering tool for creating a successful sales team, as it ensures that the sales process and customer relationships are tracked properly and managed effectively.
With the Generator CRM, managers and sales teams can effectively track all customer interactions, including emails, phone calls, B2B website browsing history, marketing campaigns and other forms of contact. This detailed information gives sales teams to better understand their prospects or customers' needs and preferences, and it enables the team specifically tailor their sales strategies accordingly. Additionally, the system helps the managers and sales team to identify potential leads and opportunities, as well as track the progress of their sales efforts.
The Generator CRM system streamlines every area of sales process, making it easier for sales teams to initiate more contacts and more close deals. 
By having all your customer information in one place, sales teams can quickly access the data they need to make more contacts and effective decisions, this helps to reduce the amount of time spent on administrative tasks, allowing sales teams to focus on what matters most: Closing more deals.
The Generator platform gives you the power to grant your vendors secure access to a portal, allowing them to keep all of their products up-to-date with the most recent information – to save you time and money.
Vendors and/or their sales representatives can help you by eliminating redundant data entry tasks for your product managers, ensuring that each vendor's data within the Generator contains the latest most detailed and accurate product information.
Vendors are provided a login to update their product information including descriptions, images, bullet points, cost prices, weights, dimensions, master and inner carton information, videos, product refinements, drawings, or schematics. Reminder intervals are set by the number of days you want a vendor to check their data for updating, and a reminder email will be sent to them.
Changes made by the vendor rep to their product information are placed into a vendor data holding / pending area. Products changed by the vendors are not changed on the website or in the Generator product database until approved by you for updating. This powerful tool will help your business reduce costs by eliminating the need to manage various copies of vendor data in multiple locations.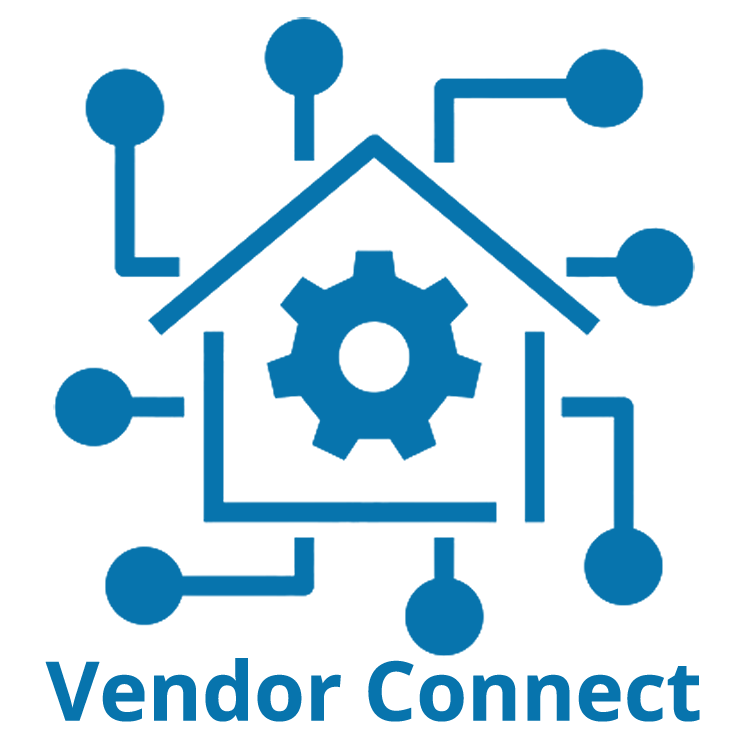 Why Run Your Business on the Generator ?
Comprehensive: The Generator is an innovative suite of modules that provide comprehensive applications to better manage all aspects of the business
Scalability:

Flexible and customizable with a company's needs, allowing it to grow with the company as it expands

Automation: Able to automate many of the redundant processes that are traditionally done manually
ROI: Affordable for any size business. Cost-effective system and operational efficiencies that save significant time and money overall
Collaboration: Enables collaboration between departments, allowing for more streamlined, efficient, and effective workflows
User Experience: Provides a user-friendly interface and experience for employees, customers, and partners for easy utilization
Integrations: Integrates with hundreds of other existing systems, allowing for a seamless flow of data and information
Globalization: Global ready with multiple languages, currencies, value-added tax (VAT), country of origin, and Harmonized Tariff Schedule (HTS) codes
Analytics: Data-driven insights, analytics and reporting capabilities that allow businesses to make more informed decisions
Data Security: PCI compliant enterprise-level secure environment for the data storage and processing of large volumes of orders
Fast Flexible Deployment: With over 20 years of experience, we are committed to working with your team to ensure swift and efficient deployment