Have a comprehensive B2B eCommerce website, ERP, and all-in-one solution full of features, functionalities, and benefits.
Powerful Solutions for Interactive eCommerce, Sales, and Marketing
The relationship between manufacturers, distributors, and retailers is now and forever directly interconnected by the information age.
Suppliers and catalogers need to effectively manage branded content and media production workflow across multiple channels of print and digital formats. Manufacturers and distributors need to support retailers with the highest quality product information data and communicate more effectively using multiple channels.
Today's Customers Need More Information
Consistently presenting customers on all levels with impressive, accurate, and timely product content, delivered simultaneously across multiple channels of sales and marketing media, is the key to creating a cohesive and supportive network of suppliers and retailers.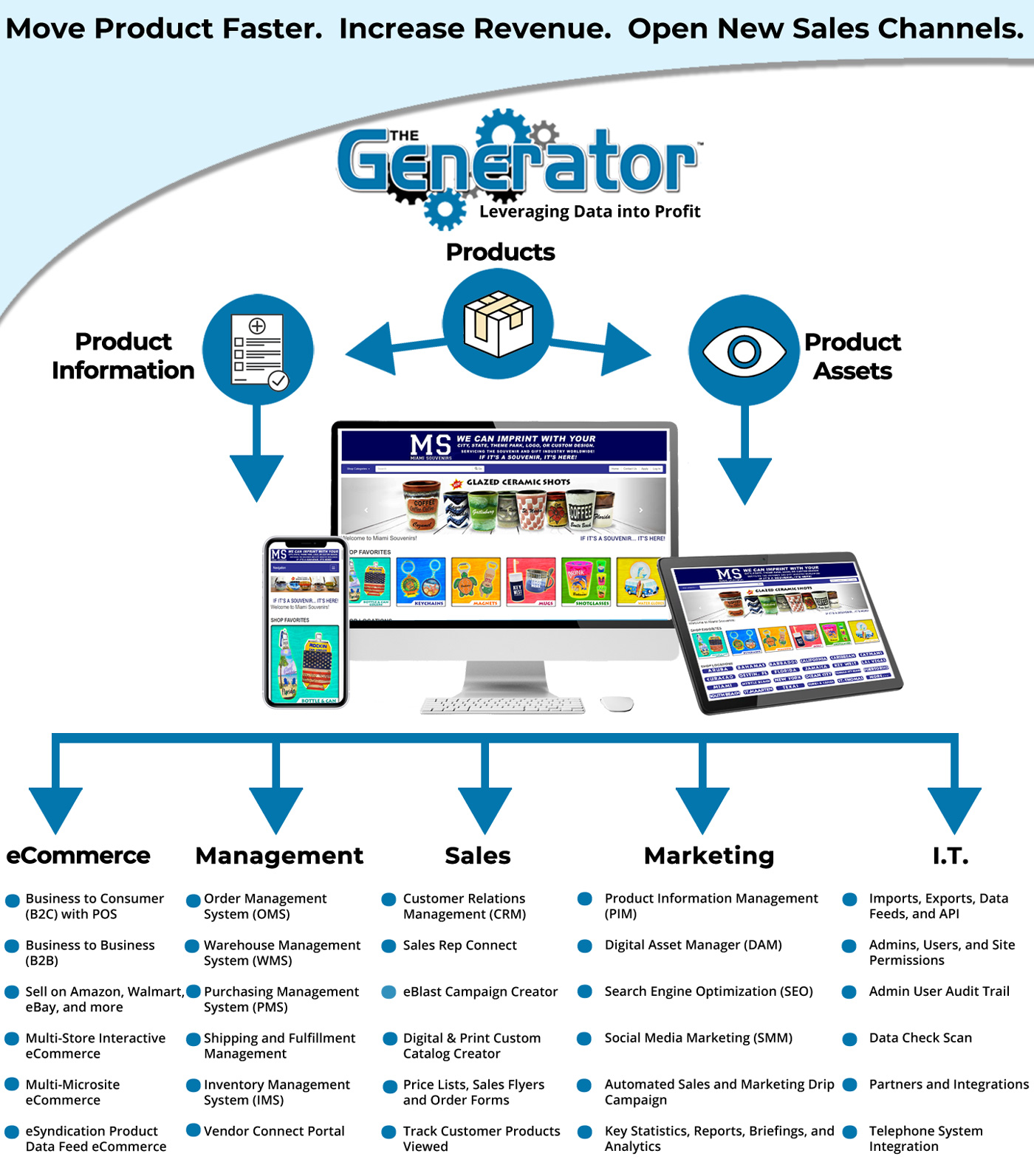 Management Highlights
Maximize efficiencies with product data in one central repository
Re-purpose and effectively coordinate product information consistently across multiple sales channels
Instantly create a Business to Business website (B2B) with every world-class feature
Increase sales and streamline the process in market channels, including Amazon, eBay, Reverb, etc.
Improve your customer buying experience and brand loyalty
Instantly create dealer websites, or in-store sales kiosks, complete with their own branding and prices
Manage and deliver consistent product data feed for up to thousands of dealer websites – simultaneously
Reduces digital and print development time and cost by up to 90% Immediate real-time for e-publishing media production
Effectively and accurately manage product content for simultaneous internet and print production Reduce costs in sales, marketing, and IT
Simplified flow of product information between departments throughout the enterprise
Significantly shorten the product time-to-market cycle
Content and Product Information Management
Enter product information one time that can be instantly repurposed
Automatically generates both print and web images from a single image file
Detailed product descriptions, bullet points, notes, videos, and spec sheets can be added to any product
Product information updates happen instantly, ensuring accuracy and uniformity
Coordinate all product information consistently across channels
Create informational and landing pages
Enterprise Order Management​
Generator Enterprise Order Management is your business operating system for efficiency and productivity, while constantly driving sales, cost savings, and improved margins
A rich feature system that includes order management, multichannel management, inventory management, purchasing, insightful reporting, and analytics
Designed to move orders quickly and efficiently from capture to warehouse and ultimately fulfillment, the customer remains the center of your operation at all times
Smoothly coordinates order management across sales and fulfillment channels
Intuitive order pick tickets allow orders to be pulled in a logical flow based on the items warehouse location
Set employees and sales representatives to specific tasks or pages within the order process to perform roles or functions
Beginning to end, a streamlined and effective order management process for your business
Business to Business eCommerce
Visitors see products in detail with list prices – only logged in customers see dealer pricing and customer specific cost prices
Shop by "Today's Deals" – Always be promoting your current sale and special items
Shop by "Brands" – Brand logos directly link to the products and shown by category
Shop by "What's New" – Directly linked to your latest products
Shop by "Categories" – Shop fast, three click shopping
Shop by "Closeouts and Bargains" – Consistently sell discontinued, stagnate and B stock inventory
Shop by "Department" – Display products within the specific departments
Advanced search capabilities with AJAX search – Creates user-friendly and interactive searches
Quick order composer – Fast order entry, by model number and quantity
Customer specific prices – Customers see their own confidential specific cost prices
Quantity discount prices – Show price breaks for volume purchasing
Level pricing for specific groups
Customer specific cost prices
Show exact inventory levels, or traffic lights for stock levels: Green = in stock, Yellow = low stock level (call for availability), Red = temporarily out of stock
Applications for a customer accounts and terms – Fully customize your forms to easily get the exact information you need
Customer specific website preferences – Customers can personalize their website experience: favorite departments, order fulfillment, sort order, view mode, font size
Track orders – Customers and view orders with status and tracking information
View saved orders – Ability to view all orders, save and submit at any time
Multiple languages – Option to allow customers to shop in their own language
Multiple currencies – Option to allow customers to shop in their own currency
Two user view modes for product display – Grid or quick view
Export settings – Establish minimum orders, price levels, terms, payments, products, limits
Informational pages – Customize for any use
Analytics-enabled – Detailed reports that track website traffic in depth
Design your own custom B2B website look and feel – customizable website template
Mobile Friendly
View the website in multiple languages, and currencies
Administration permissions system defining access levels for roles and users
Batch import and export of catalog and customer information
Search engine friendly URL's
Meta-information for products, categories, and content pages
Minimum Advertised Price (MAP)
Dropship with customer logo on packing slip
Place advertising banners on websites, track per click or by a designated length of time
Customer groups
Product bundles
Recently viewed and compare products
Shows cross-sell and recommended products
Digital and Print Module
Create product catalogs with accurate up-to-the-minute consumer or dealer prices
Produce print-ready media in substantially far less time, and more cost effectively than current methods
Reduce production time, and time to market by as much as 90%
Dynamically produce multiple forms of print and digital without the need for design software
Create digital catalogs with hyperlinks to website for instant ordering
Create sales flyers, price lists, postcards, order forms and more
Instantly produce price lists (dealer or consumer)
Dynamically created page numbers, headers, and footers
Automatic catalog page index
The Generator know where every item is on every page
Fully customizable page templates and layouts
Page tabs (colored) can be added to sections
Free-form module customizes recurring cell set-up
CMYK colors
PDF Output in multiple printer formats
Upload custom, informational or advertising pages into your catalogs
Dealer eNetwork
Your products, instantly appear on reseller websites complete and up-to-date, with the resellers' personal branding and pricing.
Easily manage your product feed from the central data repository admin, delivering consistent and specific product content to up to thousands of reseller websites simultaneously.
Data feed shows complete descriptions, images, prices, stock levels (optional), sale items, video, and audio clips, PDFs, cross-sells, and up-sells.
Shorten product time to market. Products, promotions, sale items, and data updates appear instantly on reseller websites.
Provides instant world-class websites with every big box store feature that your reseller needs to effectively sell online.
Compound your sales promotions by instantly placing new products and sale items onto your dealer's website home page.
The Generator central repository contains all your inventory items, you control reseller approval for brands and products.
Self-service sign-up process. Your reseller applies from a link on your website or from your email, you approve them, they log in and add a logo and price margin to the website that comes complete with all authorized products.
Websites can be offered for a low cost, for achieving a set sales volume, or free to resellers.
Advertising banners can be sent from the Generator to the websites, for products, brands, or vendors. Ads can be either sold per click or for a designated length of time, creating additional promotions or revenue streams.
Help resellers to better sell your products by providing them with the right product data and online solutions to succeed.
CRM – Customer Relationship Management
Leverage a complete view across the entire customer life-cycle to optimize your relationship with each individual customer
Phone system integration with auto-dialing, to increase call contacts and speed efficiency, complete with call logging, time, date, and notes
Role-based defined roles and permissions for user, such as what they can get access to and what level of access they are allowed for each page.
Automated Sales Cycle – schedule a cycle of automated emails and targeted information to specific customers increasing contact between your sales calls
Lead management to build prospects into customers
Easily view detailed customer account history, active orders, and most purchased items
Compile sales representative call lists Logs customer emails with notes
Product specific and price level quotes
Task scheduling and calendar
Intuitive reporting and dashboard
Vendor Connect Portal
Vendor Connect is a secure portal for vendors within the Generator for integration with products and purchasing
Vendors can log in to upload and maintain their product content and data
Products uploaded by vendors are held in a staging area to be approved and finalized
Reminder emails can be automatically sent to vendors on a timed basis requesting their assistance for updating their product data
Our distributed order orchestration enables companies to smoothly process orders to multiple vendors for fulfillment
Optimizes enterprise-wide inventory
Delivers speed to market
Comprehensive: The Generator is an innovative suite of modules that provide comprehensive applications to better manage all aspects of the business
Scalability:

Flexible and customizable with a company's needs, allowing it to grow with the company as it expands

Automation: Able to automate many of the redundant processes that are traditionally done manually
ROI: Affordable for any size business. Cost-effective system and operational efficiencies that save significant time and money overall
Collaboration: Enables collaboration between departments, allowing for more streamlined, efficient, and effective workflows
User Experience: Provides a user-friendly interface and experience for employees, customers, and partners for easy utilization
Integrations: Integrates with hundreds of other existing systems, allowing for a seamless flow of data and information
Globalization: Global ready with multiple languages, currencies, value-added tax (VAT), country of origin, and Harmonized Tariff Schedule (HTS) codes
Analytics: Data-driven insights, analytics and reporting capabilities that allow businesses to make more informed decisions
Data Security: PCI compliant enterprise-level secure environment for the data storage and processing of large volumes of orders
Fast Flexible Deployment: With over 20 years of experience, we are committed to working with your team to ensure swift and efficient deployment
Start Generating business. We're here to help.